Let me keep you posted about the October 2017 Event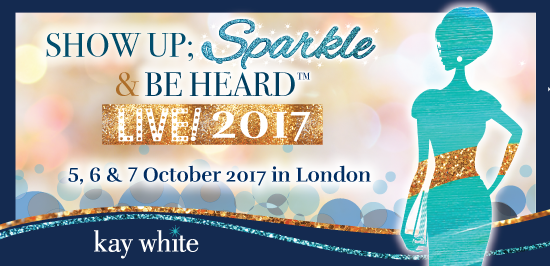 Promotion. Recognition. Rewards.
Experience a VIP 3-day Live Event
designed just for you,
by someone just like you.
That's me!
Show yourself – and everyone else – how truly valuable, intentional and sparkly YOU really are!
Then be handsomely AND fairly rewarded with the income and opportunities you know you deserve.

London – 5, 6, 7 October 2017
Let me send you all the details as they unfold, give you the special bonus materials AND all the Early-Bird and Bring-a-Friend ticket opportunities.
We're going even bigger, wider and deeper together in 2017.
Be first to receive the sparkly developments, opportunities and plans I'm crafting for you.
---



"The Show Up; Sparkle & Be Heard Event was a catalyst for me..."

"And spurred me on to look at my career and make the changes I'd been thinking of for some time but hadn't the courage or the circumstances. As a result I've applied for a position recently, was successful and they've offered me the post with a salary of £5,000 above the upper limit.

My flabber was gasted, as they say. Thank you again for the part you've played in enabling me to own my life and drive my own bus".

—Christine H. Senior Exec, UK Government
(negotiated her new post within a month of the Event based on what she found out about herself)
---



"There's nothing like this experience this side of the Atlantic."

"Kay attracts amazing women from all over the world and while I knew it would be a great Event, the amazing details Kay shares and shows you about who you are and how valuable you are just blew me away. I've learned what was holding me back and how to truly break through that and grow my business.

The whole power of communication – I never realised how crucial it is. Kay – and her amazing speakers – breaks it all down for you to get to the core of who you really are as you express yourself."

—DANIELLA RUBINOVITZ, unleashavision.com, THE NETHERLANDS
---

---

Ladies – to be successful in business, get the credit, opportunities and rewards you know you deserve – you must attract and keep attention and do it with your own personal confidence, sparkle, style and ease.
Join me in October 2017 and let me show you exactly how with practical, tactical and sparkly steps!! How often do you really take time out for yourself to concentrate and focus on YOU?
3 full VIP days together; one fabulous 4 Star Hotel, international Speakers, special Guests and Sparkly surprises PLUS Cocktails, 'Bling' moments, Lunches, a Dinner, Refreshments and… English Cakes and Treats – ALL included for you.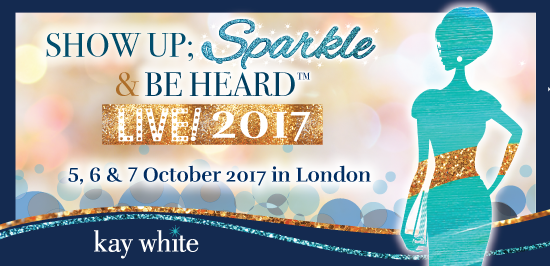 London – 5, 6, 7 October 2017
(in the meantime, you'll also receive a copy of my bi-monthly eZine with tools, tips & ideas for you)
---



"I know I'm richer as a result of being here."

"I was intrigued by the title of the Event! The idea of having access to all the like-minded professional women Kay attracts really motivated me to come. I don't want it to end!

I've learned so much about myself both from Kay and what she shares and from the generous sharing of other women in the audience. I would never have got access to the sorts of things I've learned if I hadn't had the sense to come here.

I know I'm richer as a result of being here. I've opened up to how I can do things differently to realise my potential, be a better person, earn more money and really be much happier in myself.

Kay's so thoughtful and understands what you need before you do and she's very warm, real and really, really great fun! Be open – what have you got to lose? For a small investment you can get huge access to ways to be truly extraordinary – learn from Kay."

—Samar P., DIRECTOR, GLOBAL BANK BASED IN UK
---



"It's been a life-changing weekend for me."

"I wanted a different take on things and to change my attitude – I wanted some inspiration in my career which was missing. The whole experience has been fantastic – so much attention to detail, everyone very welcoming, friendly, open and I'm amazed I've got up and danced. I just don't normally do that kind of thing and I did it because I really wanted to.

The range of speakers Kay includes is amazing – from powerful business women to spiritual teachers, quite extraordinary. I've learned such powerful lessons – having been a bit of a corporate clone I've learned that it's OK to be yourself, in fact it's crucial! I'm already much more confident about the moves I'm going to make and understand and leverage my true value.

Kay has incredible energy and warmth and you immediately want to learn from her and I feel inspired to follow her example. I've got so much out of these 3 days, it feels like a week – it's been a life-changing weekend for me. Don't hold back if you're thinking you should be here if she hosts this event again."

—Ruby C, PRACTICE MANAGER, MAJOR UK IT SERVICES CO.
---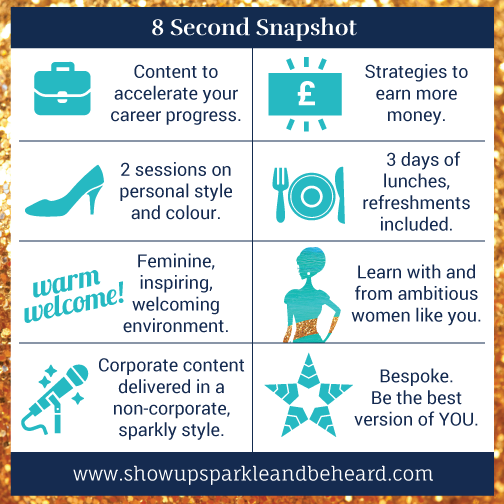 ---
It's an Event AND a true VIP Experience
all rolled into one sparkly, strategic and
practical package for you.
I'll show up and sparkle for you – will you?
Let me share the details with you
as they unfurl and unfold…
---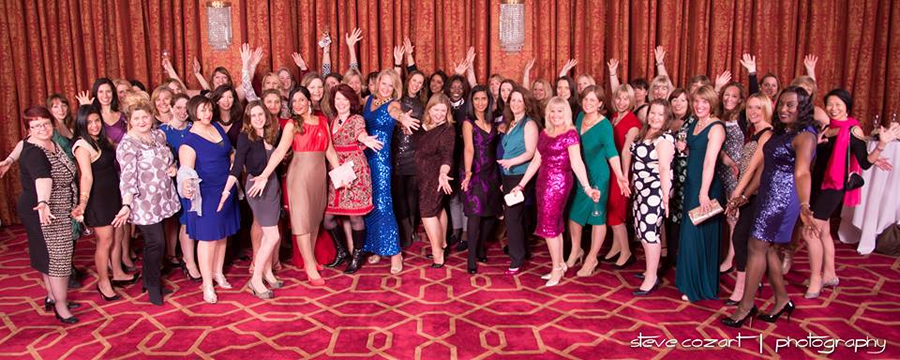 ---



"Learning about personal power, strategy and sparkle is a unique and winning formula for your career."

"I love the fact that the focus is on communication in a number of forms; not just the spoken, but the impression one gives as a whole. I took so much away from the Event. What Kay shared with her strategies and stories has given me loads more confidence to put my point across in meetings, say 'Yes' before I'm ready, understand my worth and I've even given 3 client presentations (something I really used to struggle with or avoid completely).

The fact that Kay encourages women to be women and not to deny our "sparkly" side is also a major bonus – I learned why you MUST bring yourself to your work and how to stand strong in who and how you are. Recently I had the best appraisal I could have hoped for.

I'm still in contact with a lot of the women and we've all seen massive changes and developments in our lives thanks to what we learnt.

Too many events take on the 'Grey Corporate image' but it's so refreshing – and vital – to have the opportunity to attend a much more "colourful" event which is no less professional for it. The amazing combination of learning about true personal power, strategy and sparkle from Kay and her speakers is a unique and winning formula for your career."

—Helena C., Financial Services Lawyer, London
---



"You'll be amazed by how much you'll learn and how much confidence it will give you to go for what you want in your career."

"I was moving jobs and thought it the Event was a good opportunity to have some 'me time' to think about how I wanted to shape my new role and I went with an open mind.

I learnt so much! Everything from the importance of 'driving your own bus' in your career to how to justify your reassuringly expensive charges – and even how to comfortably pose for photos! I felt ready to start my new role with a more positive attitude – and how to add a bit of bling.

It was amazing to speak to so many interesting and inspiring women and everyone instantly felt like old friends.

I realised how easy it is to lose your personality whilst building your career and how crucial it is to avoid that if you want to progress. Register now!

You'll be amazed by how much you'll learn, how much confidence it will give you to go for what you want in your career – and just how much fun this Event is!"

—Hannah P., Family Lawyer
---



"It's one of the best Events I've ever been to."

"I've learned such valuable tools from Kay – it's been just great! All the details are so well thought out and we've all felt we've been treated like Royalty. I'm inspired by all the amazing women I've met, shared with and learned from. I've learned to really value what I do and how to make it easy for people to find me and work with me. I've also learned how to be comfortable exchanging my value for money. Kay's gracious, warm and welcoming and speaks from her heart – she really wants you to become the best you can be.

She showed me so many facets to develop personally as well as professionally and brought some wonderful speakers together.

Come to any of Kay White's events – she creates such a special environment to learn about yourself– it's one of the best events I've ever been to."

—LYNN REKVIG, OWNER, EASEYOURSTRESS.COM, NORWAY
---
---



"I've learned how to let go of perfection."

"The Event exceeded my expectations on every level! So well-organised, such luxurious surroundings and I've enjoyed meeting all the other women here and the amazing speakers too.

I brought my daughter who's about to have a career change and she loved it and got so much from it all too.

Kay creates a great learning experience at the same time as making you feel nurtured and genuinely cared for. I've learned so much – how to let go of perfection, how to be more relaxed in who and how I am and Kay's just such a sparkly, generous person. She makes you feel instantly relaxed with her and then you realise just how smart, practical and true what she shares is.

I'll be here to experience it all again if she offers it – with my other daughter this time."

—ALI WHARMBY, SERVICE MANAGER, OXFORDSHIRE COUNTY COUNCIL, UK
---



"I feel empowered by what I've learned."

"I've learned how to be more open and trust myself. I came here to London to this event to share with and learn from other professional women like me. I've discovered so much about myself and I feel empowered by what I've learned. I didn't know what to expect but I trusted I wanted to be here and learn from Kay. I've learned how to be more open and how to trust myself more.

Kay's like our Fairy Godmother! She brings amazing women together in a safe, special space to learn and share and really understand how powerful we are. Go ahead and come to this event – jump and trust you'll get what you need. I did."

—LENKA DVORAKOVA, SENIOR RETAIL CONSULTANT, CZECH REPUBLIC
---